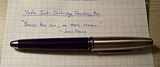 When I got this pen, I was expecting quite a bit. It's about $13 (which includes 7 cartridges), and if the $8 Parker Vector fountain pen can manage an enjoyable writing experience with good fit and finish, then a $13 fountain pen (even from some unknown quantity as Yafa) can certainly do that. Right?
The packaging also claimed, "Invitations and letters look more formal...", "Writes like an expensive fountain pen!", "6 Luxury Color Cartridges!", "Ergonomic Rubber Grip!", and "Medium nib". Normally when I see so many exclamation marks and so much marketing-ese (and even an ellipsis...) on packaging, I start to get a little suspicious, you know? And I'd never heard of the Yafa brand before. So I was vacillating, in the Office Depot aisle: Should I try this pen out, or should I wait it out for a Pelikano? I decided, "Nothing ventured, nothing gained," and bought it.
I don't regret this purchase. When I took the pen out of its package, I could feel that it was pretty substantial. Heavier, in fact, than my Parker 45 or Vector. Thicker as well - considering my 45 as medium, this is definitely a large-size pen.
Writing with it is a pleasant though utilitarian experience. It's definitely a practical daily writer nib, as befits a starter fountain pen. Not too wet, and it lays down a pretty fine line - more a fine than a medium, I'd say. Certainly finer than my 45 or Vector which are both medium nibs. Despite this minor quibble with the nib size, I think beginner fountain pen writers will enjoy it. I certainly do.
Overall, I think this pen is pretty nice, especially at the price point. It would definitely be a great gateway drug. (:
Pros:
Price


Writes well


Substantial
Cons:
Nib labelling (F v. M)


Name recognition


Packaging
Handwriting size: Medium. Large handwriting would look anaemic with this fine nib.
Price: $12.99
Available at: Office Depot